August 30, 2016
A 3D enthusiast constructed his own part recycler using his own garage tools.
3Ders reported on Pa Lemur, a 3D printer user who "couldn't be bothered to pay for the pellets" used to construct 3D printer filament, which as the consumable for 3D printers is "just like" printer cartridges in being "much more expensive". The site notes that "all you need to make your own" filament is an extruder and the pellets, but Lemur refused because "there's free plastic lying around in just about every recycling bin on earth".
His 3D printer part recycling grinder was constructed with "the basic tools available in his garage", with the site warning that "this one isn't for the casual weekend maker" as Lemur "admitted the project took roughly 40 hours to complete". The grinder works "similar[ly] to scissors with a progressively forward-closing cutting faces", and is "held together with more bolts than are necessary to increase stiffness".
Lemur's perspective on the process of making the grinder were that it was "incredibly labour intensive and fairly time-consuming", adding that "you need to be capable of high intensity work for hours at a time […] don't start this without assessing your own physical and time limitations". The materials used cost around $52 (€46), "just over what you might pay for a single one kilogramme spool of filament", and "no 3D printing or knowledge of electronics are needed for the project".
Instead, skills and tools required include "gluing, metal part filing, cutting, rotary tools, abrasive wheels" and a drill "capable of plowing through metal" just to make the grinder; while assembling it includes "stacking, threading, drilling and repeating until eventually all the blades fit next to each tight and together". The finished grinder is "capable of cutting up parts" up to a quarter of an inch thick, though "might have difficulty with sturdier materials like polycarbonate".
The site pointed out that "one of the drawbacks" is that "only very little pieces can go through for grinding at a time", and some plastic "got hung up in the blades at times". However, "at the end of the day this is a work in [progress]", and "it's possible that the hard work and dedication to practically forge the grinder together won't pay off by way of saving money on material".
The site concludes that "what is certain is that someone out there decided he wanted to make his own filament from old plastic, got his hands dirty and got it done. And on top of that, was generous enough to share his experience and tutorial with all of the internet (for no cost at all)". You can view a video of the grinder below.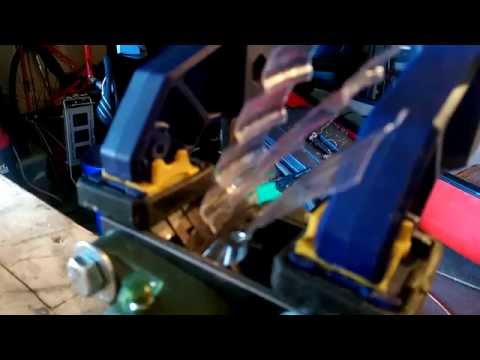 Categories : Products and Technology
Tags : 3D printing Recycling Technology
August 30, 2016
The MPS software provider is providing safety and security features for its clients.
Print Tracker said that it is aware that within businesses staff change, "duties are reassigned" and new people are employed, and the company wants to reassure the security of its customers. Within the printer industry and value-added resellers (VARs), security when setting up customers and their data is paramount, which is why Print Tracker have released Manage User Access.
The company stated that "to apply the Manage User Access feature a Print Tracker Master Administrator is chosen by dealership management to oversee use of the software", after which "the 'Master Admin' can grant, limit and restrict individual user access to various functions of Print Tracker Admin, the ePortal and Print Tracker WebAdmin utilities".
Brian Dawson, Sales and Marketing Director at Print Tracker, commented: "A growing number of dealerships are making personnel changes, dealers must have the flexibility to set up new users as they come on board and disable a person's access to data and tools when they move on.
"In addition, some dealers may want to limit the software features people can use. For example, a VAR may want salespeople to access only their own accounts, or permit certain staff to view and generate reports, without the ability to make changes to account settings. Dealers can control activity with Print Tracker Manage User Access."
Categories : Products and Technology
Tags : MPS Print Tracker Technology
August 26, 2016
Th
e retailer talks about the types of technology that will help remote workers remain productive.
In an article, the company stated that Global Workplace Analytics said that "80 to 90 percent of the US workforce [said] they would like to telework at least part time", and IDC forecasts that in the US this "population [will] reach over 105 million by 2020", more than 70 percent of the country's workforce.
Remaining engaged when working remotely can be helped by technology, said Cartridge World, and that leaving a charger at home can have a detrimental effect on output as well as the stress of trying to finish work before the battery runs out, which is why the franchise suggests that a "USB battery pack is an essential", so that extra power is available to finish projects.
Mobile hotspots are an alternative when WiFi is not available, and although they require contracts, most are offered by "every major mobile carrier including AT&T", and will connect mobiles, laptops and tablets as well as other devices. Mobile workers can feel cut off from colleagues, but can stay connected with software such as HipChat, hubEngage and Google Hangout, the franchise added.
PrintWorld, the mobile app created by Cartridge World and Samsung, "allows on the go printing and scanning from WiFi connected locations", the company added, so that documents are ready when the mobile worker arrives at their destination.
Categories : Around the Industry
Tags : Cartridge World Mobile Technology
August 25, 2016
A growing trend for destroying printers as "catharsis" has been reported in the USA.
Wall Street Journal reported on the increase in printer destruction by workers and office printer users "in a ritual act of catharsis". The trend echoes an infamous scene of destruction in the cult 1999 film Office Space, with the news outlet stating that the "increasingly popular trend" also sees individuals and companies filming themselves in the act.
Wall Street Journal added that printers have long been "the object of ire for cubicle dwellers", but are "now facing a jam" due to the "rise of the paperless office" and the "strange economics of the industry, which make it cheaper to buy a new printer than fix an old one". This, it points out, has "put malfunctioning devices in the crosshairs of techie tantrum-throwers".
Office Space's cult movie status is said to be "in part" thanks to the "slow-motion scene in which three engineers use a baseball bat to beat the living daylights" out of a printer, with companies now planning "employee retreats around printer bashing". At Alamo Drafthouse cinema chains in the USA, companies book Office Space viewing parties, after which staff can destroy a printer.
In turn, the rise in "rage rooms" across the USA and Canada allow people to "vent their anger by smashing objects", with Donna Alexander, owner of the Anger Room in Dallas, Texas, stating that she "can barely keep her business stocked with printers to crush", as they are "often the most in-demand items". Battle Sports in Toronto "goes through at least 15 printers a week", with co-founder Steve Shew noting that it "saves the biggest machines it can scavenge for corporate parties".
The average person takes "at least 10 good whacks to really get the best of a printer", he added, and said that "when you smash it, it creates glass fireworks", while Actionable Intelligence's Charlie Brewer told the news site that even though OEMs "have worked hard to improve these machines […] that's made them even more complex. That can create even more frustration".
At the University of Houston, football coach Tom Herman organised a videoed printer smashing event after a "glitch-filled signing day" for new students, adding that he had seen "friends and family members go through it—the drudgery, the cubicle work, dreading going to work every day. It seems like taking a printer out back could really help". The article concluded by quoting Office Space director Mike Judge, who noted despite the 17 years since the film was released, "printers are still horrible".
Categories : Around the Industry
Tags : Business Printers Technology
August 25, 2016
A series of machines offer Instant printing of photos from your smartphone.
PC Advisor looked at some models of instant photo printers for mobile smartphones, and said that most of us take photos that are stored on the phone or Facebook when really we should have them in "physical albums" and picture frames. The Fujifilm Instax Share SP-1 is said to be easy-to-use after downloading the free app from Google or Apple, then choosing your photo, "add[ing] a template and edit[ing]" and then printing.
The cost of printing a photo with this model is about 70 pence (91 US cents/81 euro cents) but by choosing only the photos that you really want to keep, the cost can be kept down. The Instax is portable and weighs 25.3g, and is operated by two CR2 batteries which will allow 100 prints, but it can be run from "a mains adaptor", and LEDs inform the user when the paper or power is low.
The paper is ZINK "zero ink" which means there is no smudging, and the "photo quality is good" and the paper sticky-backed. Next, the Polaroid Zip is very similar to the Instax but does not have the "customisation" that the latter has, so editing is more limited. It is smaller though and only weighs 186g, but the rechargeable battery will only allow 25 prints.
PryntCase acts as a case that the smartphone is placed into, and produces a photo in under 30 seconds ,but it is not available for all phones. The models that are compatible are the iPhone SE, 5s,5, 6s Plus, 6 Plus and 6s, and the sticky paper is an additional cost, but does use Zink technology. There is also an app for additional features and editing, as well as every time a photo is taken the app records a short video and uploads it to the cloud, so that once the photo is printed "friends can use the app to see the story behind the photo".
You can watch a video of the Prynt printer below.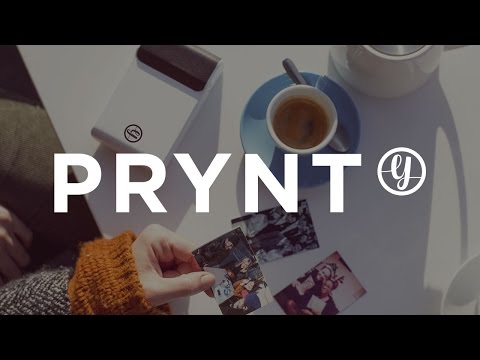 Categories : Products and Technology
Tags : Mobile Printers Technology
August 25, 2016
An article suggested that "remanufacturing and robots" could be the "perfect partnership".
CRR discussed the future of the remanufacturing industry, and said that by "2030 more than half the world's jobs could be performed by machines", but that this would not necessarily mean that humans would lose or be out of jobs.
Tijo Thayil, Section Manager for Robotics Development at A STAR Advanced Remanufacturing and Technology Centre (ARTC), said: "There are some boring tasks which are done by a human operator—just assembling the same things every day, seven days a week, these rote, repetitive tasks could be easily passed on to robots, freeing up human operators for more interesting duties."
Thayil added that there would "still be a role for humans" and that he is focused on making the robots "human friendly" for more cooperation between them and people, noting: "The previous thinking was that in the future, when we are using a fully automated production line, humans will be replaced, but now we are thinking of the robot acting more as an assistant."
He envisages that in the future robots and humans will work "side-by-side" each doing a task that the other is not capable of, stating: "We still need the intelligence and perception of the human to identify the appropriate tasks, and if the task is something that is repeated, it can be taken up by the robot."
According to Thayil, the "new generation of robots" can be "programmed to perform new [….] tasks quite simply […] you can teach a robot by demonstration. So the person has to show once how it has to be done and then after that the robot can repeat the task".
The benefit of cooperative robots is that they can "respond to stimuli" and learn on the job unlike those of the past. This technology is paramount to remanufacturing, something the centre focuses on, and the Andrew Soutar, Director of Project Management and Research Liaison, said that "the concept of repair is as old as time" but "remanufacturing is a bright new direction for the industry". He gave the example of a "remanufactured engine" being sold with an "as new warranty", whereas a "repaired engine" would not have this.
Soutar noted that there are also "significant economic and environmental benefits", and noted that "if you're looking at the circular economy and sustainability then the cost of materials will be significantly lower for a remanufactured component than for a new component", continuing by saying that energy and water costs would be lower, and therefore the consumer would also benefit.
Categories : Products and Technology
Tags : Manufacturing Remanufacturing Technology
August 23, 2016
Anirudh Sharma's technology recycles pollution for "printing, painting and art needs".
Sharma's "Kaala" device, reported on by The Recycler last October, takes in harmful pollutants and instantly repurposes them into black printer ink, by means of alcohol and oil. He hoped at the time to commercialise the device eventually, so every home around the world can benefit from it. Inspired by smog-filled trips to his home country of India, Sharma created the device, which works by a suction pump pulling in the surrounding air into a mechanism that separates the carbon black from the rest of the air.
The soot is then trapped in a small chamber and mixed with alcohol, such as vodka, and a drop of olive oil. The liquid can then be injected into a cartridge for printing. The scientist says the ink could be blacker and needs to be held up against formal toxicity standards before it hits the market. He estimates a chimney would take only 10 minutes to fill a HP Inc cartridge.
Now, The Creators Project has checked in with Sharma's Graviky Labs company, which has begun repurposing the collected carbon into Air-Ink, with the company said to have been "fusing technology and design to aid in tackling environmental issues". The company has been collaborating with designers, artists, scientists and automotive experts, Sharma stating that "the thought behind this is to have air pollution end up as art/illustrations/murals, than in our lungs.
"It's like an art movement where people want to express more about the environment safety with these inks". Pens using Air-Ink capture 40 to 50 minutes of air pollution from cars, and the company partnered with Tiger Beer to launch the product in Hong Kong. Sharma added that the company's goal is to take our inks anywhere people want to use it and do our bit towards reducing pollution. By using our inks for day-to-day needs, he/she has the power to reduce our carbon-footprint".
The previously-developed Kaala technology is now used in the KAALINK contraption, fitted to exhaust pipes to "capture the outgoing pollutants", with the unit turning on when the car starts and catching pollutants. The soot collected "undergoes various proprietary processes to remove heavy metals and carcinogens", before the end product – "purified carbon pigment" – is used to "make different types of inks and paints".
The inks are aimed at being permanent, with "seven different grades" of Air-Ink developed for different applications, and Sharma noted that the company aims to "add printer cartridge refills to our portfolio", with that development allowing it to "reduce the carbon footprint in business/offices too".
Categories : Products and Technology
Tags : Inkjet Printing Technology
August 22, 2016
The OEM has covered how companies can "make mobility work for you and your team".
In a blog, Xerox started by remarking that "there are now more mobile devices in the world than there are people", with the "ability to use mobile technology to connect remotely" something that "empowers and enables us". It gives examples of this, including that colleagues can "collaborate on projects across multiple time zones", but points out that "despite this connectivity – and despite the overwhelming abundance of gadgets – somehow connecting can still be challenging".
It points out that "this is especially true for remote workers", who it describes as "that intrepid group who doesn't just use their phone for texting or their tablet for streaming Netflix", but who "rely on mobile devices and digital connectivity to get the job done", and who "play an influential role in determining the direction in which much of our technology will advance and what we're hearing is that the need more than just basic connectivity".
Remote workers "need to be able to recreate a full desktop experience, any time, in any place, and that includes turning digital documents into printed ones and vice versa", with work "no longer a place". The challenge here is that "although we've adapted to these changes in the way we connect and the way we work in record time, this is still a very new world, with plenty of gaps to fill".
Xerox adds that "it's essential to know where yours are, and to find solutions that will help you overcome them. When you're able to create seamless, hassle-free processes for your mobile workers, you're empowering them to boost their productivity and increase their outputs. You're also eradicating the headaches and hurdles that can turn working remotely from freeing to frustrating".
On where to begin, the OEM states that "push button simplicity" is the way forward, with workflows needing to be "reduced to the smallest number of steps for maximum efficiency", as "mobility means nothing if there are breakdowns in flow and collaboration because your process is too hard". It also highlights "smarter document management", meaning technology that "seamlessly integrates with the mobile devices and the cloud apps" remote workers "rely on to get their work done".
The "freedom to work the way they need to" was also noted, as "mobile workers need to complete the same tasks as their desk-dwelling peers", so their success "hinges on an environment that supports both mobility and collaboration", because "one-third of business processes are still document-driven".
The OEM also referred to "printing and scanning [being] necessary parts of the job for your mobile team", and that they need to be "fast, intuitive and push-button simple", with the key "managing your workflows in a way that makes your documents work best for your team's unique needs". MFP apps, cloud mobile apps and more can be used from Xerox to help, and Xerox concludes that "seamless remote workflows mean increased productivity, better collaboration, and (much) happier workers".
Categories : Around the Industry
Tags : Business Technology Xerox
August 19, 2016
Harvard researchers invent a nozzle pen that transforms 3D printing with metal.
Harvard Magazine reported that the new technique "pioneered by Harvard researchers" was developed at The Wyss Institute for Biologically Inspired Engineering and The Paulson School of Engineering and Applied Sciences. The technique uses a pen-like feature, and "squeezes out a coil of silver", which is applied at the base and then can be taken up into the air, producing a coil-like structure.
The nozzle is "attached to the 3D printer" and the ink is made from "nanoparticles", which is "thinner than a strand of hair", and after a "few twisting motions" the "microscopic wire" is formed in "sharp angles, a spherical antenna, [and] a butterfly with open wings". The report noted that "these complex shapes" and their "ability to […be] freestanding structures" is a "big step forward in 3D printing", and that it will mean that "applications ranging from 3D antennas to electrical interconnects" can be made.
"The breakthrough innovation is a laser positioned right beside the 3-D printer nozzle", said Mark Skylar-Scott, a Wyss Institute postdoctoral fellow in materials science and electrical engineering, and lead author of a paper on the research. The ink, which is silver nanoparticles "suspended in polymer solution", is the "consistency of toothpaste", and as it is squeezed out the laser heats the ink, hardening it; whereby the "nanoparticles fuse together and the polymer decomposes", forming a solid but flexible wire.
Skylar-Scott said that the "laser's precision and the ability to adjust its temperature" allows the researchers to "vary the level of conductivity within a single structure and to heat only the wire, without risking damage to the substrate, which could be made of plastic, rubber, or flexible materials".
The scientists see "many potential uses for these complex metal structures" such as "in biomedical devices, wearable and flexible electronics, sensors, displays, small antennae, electromagnetic devices, a coil in a speaker, a transformer to amplify signals" and more, but Skylar-Scott said that "someone would have to further the technique" and that "right now there are a lot of knobs to tweak", but that "with a bit more work these parameters can be optimised and automated".
Categories : Products and Technology
Tags : 3D printing Technology USA
August 18, 2016
The retailer addresses security for the mobile workforce.
Continuing the topic of working from home, as reported in The Recycler in June, Cartridge World has looked at the strategy for data security and its importance to the mobile workforce. Stating that recent research from PricewaterhouseCoopers showed a "38 percent increase in security incidents between 2014 and 2015" and the growth of theft of "hard intellectual property" by 56 percent in 2015, the report said that the "average total cost of a data breach" had cost more than $7 million (€6 million) according to a report from the Ponemon Institute and IBM this year.
This impacted the individual with an "average expense" of $221 (€195) because of the effect on customer relations and well as "technology and legal fees". Although research from Shred-it showed that "92 percent of corporate executives" and 58 percent of SMBs have some mobile workers, only 31 percent of executives and 32 percent of SMBs have a security policy in place, leaving these workers open to a number of security issues that could be avoided if policies were in place.
ComputerWeekly said that "many of today's cyberattacks are aimed at smartphones, tablets, laptops and USB drives" and that consideration should be taken when working "over public WiFi networks". The security of printer networks should also be considered by businesses, and Quocirca reported that "60 percent of enterprises indicated they've faced a print related data breach".
Mobile workers should follow some basic guidelines to "reduce the risk of a data breach" when working from home or on the road. Cartridge World suggests that it is "best practice to avoid sending sensitive information" from public WiFi and when possible to use a "corporate VPN" or a "private network that connects […] to a secure internal network".
The advice conclude by saying that mobile workers should ensure that email connections are "always encrypted" and that "each password is unique" for all accounts. Summing up, the report said that the right technology could prevent security risks and that this will make "remote workers more productive" as well as "more secure". Cartridge World's PrintWorld is a new app from that was developed with security in mind for mobile workers and this was reported in The Recycler 14 June.
Categories : Around the Industry
Tags : Cartridge World Security Technology